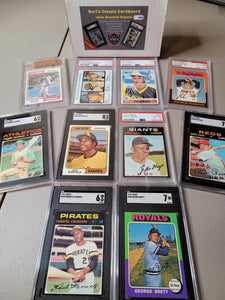 Note: This purchases made from this listing will be opened live on my next broadcast (1/22/2023). If you want yours shipped unopened, please purchase from the other listing (link).
Burl's Classic Cardboard ~ Live Rip ~ 1970s Topps Baseball Set Break Repack
$50.00 $45 per pack: 12 cards per pack with 1 guaranteed HOFer (LIMIT REMOVED)
US Shipping ($4.50 flat, free for orders of $75 or more)

International Shipping (Calculated based on location)
If you have any questions, feel free to send me an e-mail at burl@burlssports.com
Product Description
Essentially, this product takes complete Topps baseball sets from 1970-1979 (one for each year) and divides them into 600 packs. Every pack is guaranteed to have a Hall of Fame player, so I did add a few hundred extra HOF cards to the packs to make that work. No commons are duplicated.
I'll likely be giving a few of these away at some point, so be sure to follow my social media accounts: Facebook, Twitter, Instagram. 
Card Condition Info: . Overall, the sets average in EX-MT or better condition, although there are certainly some VG-EX cards in the 1970-1973 sets. 0 creased cards in the group. Overall, more than 100 cards are graded. 

 List of graded cards in the break:
| | |
| --- | --- |
| 1970 Topps #140 Reggie Jackson | SGC 5 |
| 1970 Topps #189 Thurman Munson | SGC 3 |
| 1970 Topps #189 Thurman Munson | PSA 6 |
| 1970 Topps #350 Roberto Clemente | SGC 4 |
| 1970 Topps #462 Hank Aaron | SGC 5 |
| 1970 Topps #500 Hank Aaron | SGC 5.5 |
| 1970 Topps #580 Pete Rose | SGC 6 |
| 1970 Topps #600 Willie Mays | SGC 4.5 |
| 1970 Topps #712 Nolan Ryan | SGC 5 |
| 1971 Topps #100 Pete Rose | SGC 7 |
| 1971 Topps #160 Tom Seaver | SGC 5 |
| 1971 Topps #20 Reggie Jackson | SGC 6 |
| 1971 Topps #220 Ron Santo | SGC 5 |
| 1971 Topps #26 Bert Blyleven | SGC 5 |
| 1971 Topps #264 Joe Morgan | SGC 3.5 |
| 1971 Topps #300 Brooks Robinson | SGC 4 |
| 1971 Topps #400 Hank Aaron | SGC 4 |
| 1971 Topps #5 Thurman Munson | SGC 6 |
| 1971 Topps #5 Thurman Munson | SGC 5 |
| 1971 Topps #513 Nolan Ryan | SGC 4 |
| 1971 Topps #513 Nolan Ryan | SGC 5 |
| 1971 Topps #513 Nolan Ryan | BVG 4.5 |
| 1971 Topps #570 Jim Palmer | SGC 8 |
| 1971 Topps #600 Willie Mays | SGC 6 |
| 1971 Topps #600 Willie Mays | PSA 6 |
| 1971 Topps #630 Roberto Clemente | SGC 6 |
| 1971 Topps #640 Frank Robinson | SGC 6 |
| 1972 Topps #299 Hank Aaron | PSA 6 |
| 1972 Topps #309 Roberto Clemente | SGC 7.5 |
| 1972 Topps #37 Carl Yastrzemski | CSG 5.5 |
| 1972 Topps #435 Reggie Jackson | CSG 6 |
| 1972 Topps #49 Willie Mays | PSA 6 |
| 1972 Topps #559 Pete Rose | SGC 6 |
| 1972 Topps #595 Nolan Ryan | BVG 6.5 |
| 1972 Topps #600 Al Kaline | BVG 6 |
| 1972 Topps #751 Steve Carlton | SGC 6 |
| 1972 Topps #752 Joe Morgan | SGC 6 |
| 1972 Topps #754 Frank Robinson | SGC 7 |
| 1972 Topps #760 Bill Mazeroski | SGC 4 |
| 1972 Topps #79 Cooper/Fisk | SGC 4 |
| 1973 Topps #100 Hank Aaron | PSA 5 |
| 1973 Topps #193 Carlton Fisk | PSA 6 |
| 1973 Topps #220 Nolan Ryan | SGC 7 |
| 1973 Topps #220 Nolan Ryan | BVG 6.5 |
| 1973 Topps #615 Mike Schmidt | PSA 6 |
| 1974 Topps #1 Hank Aaron | SGC 5 |
| 1974 Topps #130 Reggie Jackson | SGC 6 |
| 1974 Topps #20 Nolan Ryan | SGC 7.5 |
| 1974 Topps #252 Dave Parker | SGC 5 |
| 1974 Topps #456 Dave Winfield | SGC 8 |
| 1974 Topps #456 Dave Winfield | SGC 4.5 |
| 1975 Topps #223 Robin Yount | SGC 4.5 |
| 1975 Topps #223 Robin Yount | SGC 7 |
| 1975 Topps #228 George Brett | SGC 7 |
| 1975 Topps #228 George Brett | PSA 6 |
| 1975 Topps #260 Johnny Bench | PSA 6 |
| 1975 Topps #300 Reggie Jackson | SGC 5 |
| 1975 Topps #370 Tom Seaver | SGC 7 |
| 1975 Topps #5 Nolan Ryan | PSA 8 |
| 1975 Topps #500 Nolan Ryan | SGC 6 |
| 1975 Topps #500 Nolan Ryan | PSA 8 (OC) |
| 1975 Topps #616 Jim Rice  | CSG 6 |
| 1975 Topps #616 Jim Rice  | CSG 6 |
| 1976 Topps #20 Nolan Ryan | BVG 8 |
| 1976 Topps #270 Willie Stargell | PSA 6 |
| 1976 Topps #316 Robin Yount | SGC 7.5 |
| 1976 Topps #316 Robin Yount | CSG 6.5 |
| 1976 Topps #355 Steve Carlton | BVG 5 |
| 1976 Topps #450 Jim Palmer | SGC 6 |
| 1976 Topps #550 Hank Aaron | SGC 4 |
| 1976 Topps #550 Hank Aaron | SGC 3.5 |
| 1976 Topps #98 Dennis Eckersley | SGC 5 |
| 1976 Topps #98 Dennis Eckersley | SGC 6 |
| 1976 Topps #98 Dennis Eckersley | CSG 6 |
| 1976 Topps #98 Dennis Eckersley | CSG 6 |
| 1976 Topps #98 Dennis Eckersley | PSA 6 |
| 1977 Topps #150 Tom Seaver | SGC 4 |
| 1977 Topps #476 Dale Murphy | SGC 6 |
| 1977 Topps #650 Nolan Ryan | PSA 5 |
| 1978 Topps #173 Robin Yount | PSA 7 |
| 1978 Topps #173 Robin Yount | PSA 6 |
| 1978 Topps #36 Eddie Murray | SGC 4 |
| 1978 Topps #36 Eddie Murray | SGC 3 |
| 1978 Topps #360 Mike Schmidt | BVG 7.5 |
| 1978 Topps #400 Nolan Ryan | SGC 7 |
| 1978 Topps #5 Pete Rose | SGC 7 |
| 1978 Topps #540 Steve Carlton | CSG 7 |
| 1978 Topps #700 Johnny Bench | PSA 6 |
| 1978 Topps #703 Jack Morris | SGC 7.5 |
| 1978 Topps #703 Jack Morris | PSA 6 |
| 1978 Topps #707 Molitor/Trammell | SGC 4 |
| 1978 Topps #707 Molitor/Trammell | PSA 6 |
| 1978 Topps #707 Molitor/Trammell | BVG 6 |
| 1978 Topps #708 Dale Murphy | SGC 7 |
| 1979 Topps Burger King #13 Pete Rose | SGC 5 |
| 1979 Topps #115 Nolan Ryan | SGC 5 |
| 1979 Topps #115 Nolan Ryan | CSG 6.5 |
| 1979 Topps #116 Ozzie Smith | SGC 4.5 |
| 1979 Topps #116 Ozzie Smith | PSA 7 |
| 1979 Topps #116 Ozzie Smith | PSA 6 |
| 1979 Topps #200 Johnny Bench | SGC 7 |
| 1979 Topps #25 Steve Carlton | PSA 8 |
| 1979 Topps #340 Jim Palmer | BVG 7 |