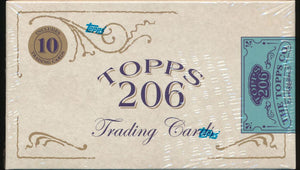 This listing is for a pack of 2020 Topps 206 cards from series 4, styled after the classic T206 set. These packs were purchased by me, directly from Topps and are guaranteed unsearched.
I'll do a personal pack break live on the next webcast and ship the entire contents of the pack to you! If you would prefer to have the pack shipped unopened, please message me prior to my next scheduled broadcast. 
Shipping is $3.50 to the US, and free on all orders over $75. International orders calculated by location
Product details:
Description
Look for surprise On-Card Autograph Cards!
• Random Auto's coming!
Configuration:
• 10 cards per pack
• 8 base cards, 2 parallel cards in every pack
Parallels:
• Piedmont Back (2 per pack)
• Sweet Caporal Back (1:3 packs)
• Sovereign Back (1:6 packs)
• Polar Bear Back (1:18 packs)
• Old Mill Back (1:30 packs)
• NEW! Background Variation (foiled stamped # to 25) - WAVE 4 EXCLUSIVE!
• American Beauty Back (foil stamped # to 10)
• Ty Cobb (foil stamped # to 1)
After a 10-year hiatus, Topps 206 Baseball makes its return!