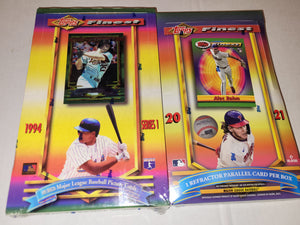 This listing is for a group break of one box of 1994 Finest Series 1 and one box of 2021 Finest Flashbacks. 
Each spot = all the cards in one pack (determined via random) in each box (1 pack from '94 and 1 pack from '21). All packs will be opened during a live webcast Monday, 11/1, @ 9 PM CST. 

LIMIT 4 SPOTS PER PERSON
BONUS: Since there are 24 packs in the '94 box but only 18 spots for sale, those extra 6 packs will be awarded as bonuses to participants. 
Shipping = $4 (free on orders over $75)